This year at the Seminary there is quite an unusual nativity scene. No Mary and Joseph, no fair-skinned Baby Jesus and no sheep either. Instead, on one side, a beacon, below which is a red life jacket lying and an empty beer bottle lying on rocks. To the right a fishing boat, with nets spread over its sides. In the centre, on a pallet holding some hay and fishing nets, lies Baby Jesus.
On 8 July on his visit in Lampedusa, Pope Francis celebrated the Eucharist together with the residents and immigrants who sought refuge there. He emphasised his disappointment, his 'painful thorn in the heart', on this tragic reality that a lot of refugees whilst seeking a better place end up losing their lives. The Pope stressed our responsibility and sensitivity towards this reality, and before which we cannot remain indifferent!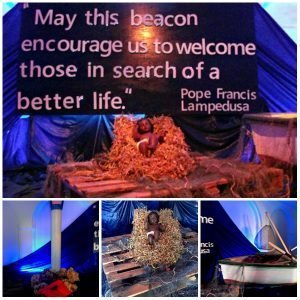 At the end of the Mass Pope Francis said:
"Before imparting my blessing to you I want to thank you once again; you people of Lampedusa, for the example of love, charity and hospitality that you have set us and are still setting us. The Pope said that Lampedusa is a beacon: may this example be a beacon that shines throughout the world, so that people will have the courage to welcome those in search of a better life."
In the light of this we decided to make this year's nativity crib around this theme. The fishing boat represents our own life, everyone with his own duties and decisions. However like this fishing boat in our lives we frequently encounter Jesus pleading for help in our brother. Are we going to remain indifferent, are we going to pass by our brother who is begging for our help?
The Pope in his homily describes this reality as:
                "Immigrants dying at sea, in boats which were vehicles of hope and became vehicles of death."
Is my boat a vehicle of hope or death?
This Christmas, Jesus is inviting you to help him in your brother, are going to remain indifferent?