In this second of a series of reflections from the Pope's Message for Lent 2014, we shall be focusing on the mystery of God – made – Man. For in the act of incarnation, God gave us the example par excellence of authentic poverty. You can read the same reflection in Maltese here.
Christ's grace
First of all, it shows us how God works. He does not reveal himself cloaked in worldly power and wealth but rather in weakness and poverty: "though He was rich, yet for your sake he became poor …". Christ, the eternal Son of God, one with the Father in power and glory, chose to be poor; he came amongst us and drew near to each of us; he set aside his glory and emptied himself so that he could be like us in all things (cf. Phil 2:7; Heb 4:15). God's becoming man is a great mystery! But the reason for all this is his love, a love which is grace, generosity, a desire to draw near, a love which does not hesitate to offer itself in sacrifice for the beloved. Charity, love, is sharing with the one we love in all things. Love makes us similar, it creates equality, it breaks down walls and eliminates distances. God did this with us. Indeed, Jesus "worked with human hands, thought with a human mind, acted by human choice and loved with a human heart. Born of the Virgin Mary, he truly became one of us, like us in all things except sin." (Gaudium et Spes, 22).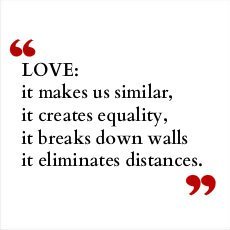 By making himself poor, Jesus did not seek poverty for its own sake but, as Saint Paul says "that by his poverty you might become rich". This is no mere play on words or a catch phrase. Rather, it sums up God's logic, the logic of love, the logic of the incarnation and the cross. God did not let our salvation drop down from heaven, like someone who gives alms from their abundance out of a sense of altruism and piety. Christ's love is different! When Jesus stepped into the waters of the Jordan and was baptized by John the Baptist, he did so not because he was in need of repentance, or conversion; he did it to be among people who need forgiveness, among us sinners, and to take upon himself the burden of our sins. In this way he chose to comfort us, to save us, to free us from our misery. It is striking that the Apostle states that we were set free, not by Christ's riches but by his poverty. Yet Saint Paul is well aware of the "the unsearchable riches of Christ" (Eph 3:8), that he is "heir of all things" (Heb 1:2).
Points to Ponder
Reflect on the God's way of loving humans.
What does this tell you about your way of loving?