In this third part of the Leenten Message by Pope Francis, we dwell further on Christ's poverty and on how this can set us free and enrich us. The text in Maltese can be viewed here.
So what is this poverty by which Christ frees us and enriches us? It is his way of loving us, his way of being our neighbour, just as the Good Samaritan was neighbour to the man left half dead by the side of the road (cf. Lk 10:25ff ). What gives us true freedom, true salvation and true happiness is the compassion, tenderness and solidarity of his love. Christ's poverty which enriches us is his taking flesh and bearing our weaknesses and sins as an expression of God's infinite mercy to us. Christ's poverty is the greatest treasure of all: Jesus' wealth is that of his boundless confidence in God the Father, his constant trust, his desire always and only to do the Father's will and give glory to him. Jesus is rich in the same way as a child who feels loved and who loves its parents, without doubting their love and tenderness for an instant. Jesus' wealth lies in his being the Son; his unique relationship with the Father is the sovereign prerogative of this Messiah who is poor.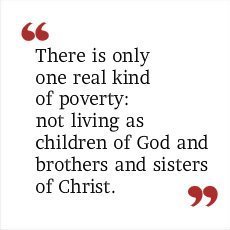 When Jesus asks us to take up his "yoke which is easy", he asks us to be enriched by his "poverty which is rich" and his "richness which is poor", to share his filial and fraternal Spirit, to become sons and daughters in the Son, brothers and sisters in the firstborn brother (cf. Rom 8:29).
It has been said that the only real regret lies in not being a saint (L. Bloy); we could also say that there is only one real kind of poverty: not living as children of God and brothers and sisters of Christ.
Our witness
We might think that this "way" of poverty was Jesus' way, whereas we who come after him can save the world with the right kind of human resources. This is not the case. In every time and place God continues to save mankind and the world through the poverty of Christ, who makes himself poor in the sacraments, in his word and in his Church, which is a people of the poor. God's wealth passes not through our wealth, but invariably and exclusively through our personal and communal poverty, enlivened by the Spirit of Christ.
Points to ponder
– Bruno Forte writes "Non è divina solo la gratuità: è divina anche la gratitudine" – not only gratuity is divine: even gratitude is divine (Piccola Introduzione alla Fede). What do these words tell you?
– How much am I letting myself be filled with God's love?
– How much am I letting Him make me His son?Am I seeking to receive from Jesus?