During this year's Lenten season, as a community we shall be reflecting on the Pope's Lenten message, "…He became poor, so that by his poverty you might become rich" (2 Cor 8:9). We invite you to join us as we embark on this "path of conversion". A Maltese version of the text is also available here.
Dear Brothers and Sisters,
As Lent draws near, I would like to offer some helpful thoughts on our path of conversion as individuals and as a community. These insights are inspired by the words of Saint Paul: "For you know the grace of our Lord Jesus Christ, that though he was rich, yet for your sake he became poor, so that by his poverty you might become rich" (2 Cor 8:9). The Apostle was writing to the Christians of Corinth to encourage them to be generous in helping the faithful in Jerusalem who were in need. What do these words of Saint Paul mean for us Christians today? What does this invitation to poverty, a life of evangelical poverty, mean for us today?
***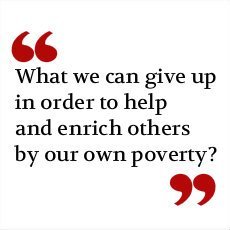 Dear brothers and sisters, may this Lenten season find the whole Church ready to bear witness to all those who live in material, moral and spiritual destitution the Gospel message of the merciful love of God our Father, who is ready to embrace everyone in Christ. We can do this to the extent that we imitate Christ who became poor and enriched us by his poverty. Lent is a fitting time for self-denial; we would do well to ask ourselves what we can give up in order to help and enrich others by our own poverty. Let us not forget that real poverty hurts: no self-denial is real without this dimension of penance. I distrust a charity that costs nothing and does not hurt.
May the Holy Spirit, through whom we are "as poor, yet making many rich; as having nothing, and yet possessing everything" (2 Cor 6:10), sustain us in our resolutions and increase our concern and responsibility for human destitution, so that we can become merciful and act with mercy. In expressing this hope, I likewise pray that each individual member of the faithful and every Church community will undertake a fruitful Lenten journey. I ask all of you to pray for me. May the Lord bless you and Our Lady keep you safe.
Points to ponder

Reflect on the God's way of loving humans.

What does this tell you about your way of loving?