A yearly appointment at University is 'The Make My House A Home Campaign', organised by Għaqda Studenti tat-Teoloġija GħST in collaboration with RTK. The Orange Campaign, as it is more widely known on campus, ran from Thursday 4th to Friday 5th December. The total sum collected until the end of the event is €4,500, of which €2,700 were collected on campus through squeezing of oranges, sale of oranges, doughnuts, hot beverages, cakes, cupcakes and other sweets.
The event saw a number of dignitaries visiting us, including, H.E. the President of Malta Marie Louise Coleiro Preca, H.L. Bishop Charles J. Scicluna, Hon. Michael Farrugia MP, Hon. Clyde Puli MP and Rev. Prof. Emmanuel Agius, Dean of our Faculty. The chaplain of University Rev. Michael Bugeja sj visited us a number of times too.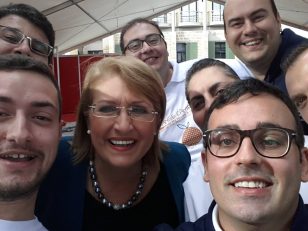 The proceedings will go towards Uffiċċju Ejjew Għandi, in aid of families with children who are in peculiar financial and social situations. This office, run by the Catholic Church, holds that a child's place is within a family; however, when this is not possible, an application is normally filed for admission into a Home. This Office investigates the possibility of the children staying within the family group, while they and their family are given the necessary care and support. Thus, one tries to avoid as much as possible the need of separating the child from the family. This programme is tailor-made to meet the needs of each particular family in such a way that it incorporates parental skills, counselling, budgeting skills, cooking sessions etc. In certain instances help in the form of foodstuffs, medicinals, second-hand furniture and domestic appliances, such as, refrigerators, washing machines, cookers etc., is offered as well.
Similar to previous years, a good percentage of those volunteering in the event were morning Theology students, of which most are seminarians. One particular discipline we, as seminarians, are trained at, is that of true charity towards others. One way of exercising this is through voluntary work. Volunteering allows us to connect better with our community and aim to make it a better place.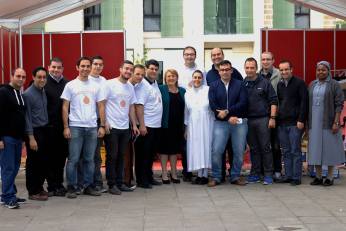 Volunteering is two-way: It can benefit you as much as the cause being helped. The Orange Campaign, and similar other charity events organised on campus by GħST in collaboration with other student bodies, helps us make new friends, expand our network, and boost our social skills: three important tools for the priesthood. Volunteering for such a noble cause, also strengthens our ties with the community, learn to appreciate how the diocese operates in its diakonia ministry and share the pains such families at risk of poverty face. Another benefit for us seminarians is that while some people are naturally outgoing, others are shy and have a hard time meeting new people. Such an event on campus gives the opportunity to practice and develop one's social skills. Once you have momentum, it's easier to branch out and make more friends and contacts, each being an important skill for us as future pastors.